Stop by our farm store and come see what's cooking!
We prepare a wide variety of foods in our commercial kitchen–located right on our farm. While some items are listed here, we make many more items than we can detail. We hope you can check out our farm store to what we have available. If you're looking for something specific, call a few days ahead of your visit to inquire. Our products are made using milk from Mapleline Farm, butter from Cabot, maple syrup from Sugarbush Farm, and honey from Warm Colors Apiary.
Soups
Our selection of soups include a variety of turkey, chicken, cream based, vegetarian, vegan, and gluten free soups made with our own bone broths including:
Turkey or Chicken Barley; Turkey or Chicken Noodle; French Onion; Italian Wedding Soup; Chicken Chowder; Turkey Minestrone: Cheddar Ale; Pho; Corn Chowder; Cream of Buffalo Chicken; Turkey Penne*;  Chicken Penne*; Turkey Brown Rice*; Chicken Brown Rice*; Turkey Gumbo*; Southwestern Turkey*; Tomato Basil Cream*; Split Pea*; Autumn Bisque*; Black Bean* and more.
Ready to Eat
Deviled Eggs* , Sandwiches -Chicken Salad, Turkey Salad, Egg Salad, and Turkey Pecan Cranberry Wraps, a wide variety of salads, hot Dean's Beans Coffee, tea, fruit juices, water, seltzers and Maple Mama's Vanilla and Raspberry Lime Spritzers.
Entrees and Side Dishes
Dishes made with a variety of our farm fresh meats: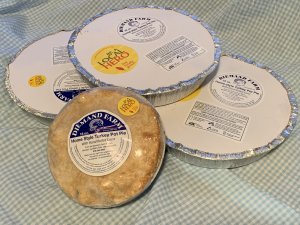 Dishes made with our own farm fresh chicken and turkey:
Chicken Stew with Biscuits, Moroccan Chicken Stew, Turkey Chili*, Spicy Turkey Fingers , Turkey Parmesan, BBQ Pulled Turkey, Moroccan Turkey Pie, Turkey Gravy*, Turkey Pot Pies**, Turkey Croquettes, Turkey TV Dinners, Sliced Turkey Breast with Gravy**, BBQ Turkey Legs, Turkey Hash, Swedish Turkey Meatballs, Turkey Egg Rolls, Spicy Turkey Sausage Stuffed Mushrooms, Turkey Sausage and Rice, Spicy Sausage Gravy and Biscuits.
Dishes made with our own Grass-fed Beef:
Beef Stew, Cheeseburger Pie, Shepard's Pie, Beef Burritos, Beef Barley Soup, Beef Meat Loaf, Beef Lasagna, Beef Hand Pies.
Vegetarian and Vegan Dishes:
Stuffed Mushroom Caps, Cranberry Apple Relish*, Cranberry Orange Relish*, Eggplant Parmesan, Garlic Scape or Basil Pesto*, Spinach & Mushroom Bake, Cheesy Quinoa Veggie Bites.
Salads
Traditional or Asian Coleslaw; German, French, or Traditional Potato Salad;  Lime Black Bean Quinoa Salad or Wheatberry Salad; Other Assorted Pasta and Grain Salads.
Desserts
We offer a wide selection of cookies, bars, pies, fruit crisps and cobblers. We also offer a variety of specialties such as mousses, cream horns, éclairs, tiramisu, and almond crescent cookies*–to name just a few of our delicacies.
*Gluten-Free
** Also available Gluten-Free
Please Note: Some products are processed using equipment that handles known allergens including peanuts, tree nuts, wheat, dairy, and egg products.