Our Farm Store is open year round. Come see what's cooking. Grab a quick sandwich, salad, dessert and hot or cold drink for lunch and sit on our porch or in front of the pasture and eat in our lovely peaceful farm setting. Then pick one of our many home style meals to bring home.
Have the kids visit with the sheep, goats, donkeys, and mini horses. You can then grab something tasty to bring home for dinner.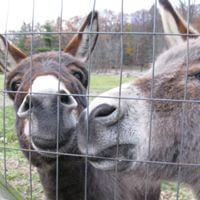 There are many items to choose from, including  Doreen's Beef Shepard's Pie, one of our famous Turkey Pot Pies, or one of our many types of soup made with our own farm made bone broth.
Our different cooks specialize in different dishes and come on specific days to cook up their specialties.  Since we may not have every item listed on this site available at all times please call a few days ahead if there is something specific you are looking for and we'll do our best to have it for you.