OWNER/OPERATORS/STAFF
There are 12 Diemand siblings. Peter, Anne, and Faith run the farm but many of their siblings and extended family work on the farm.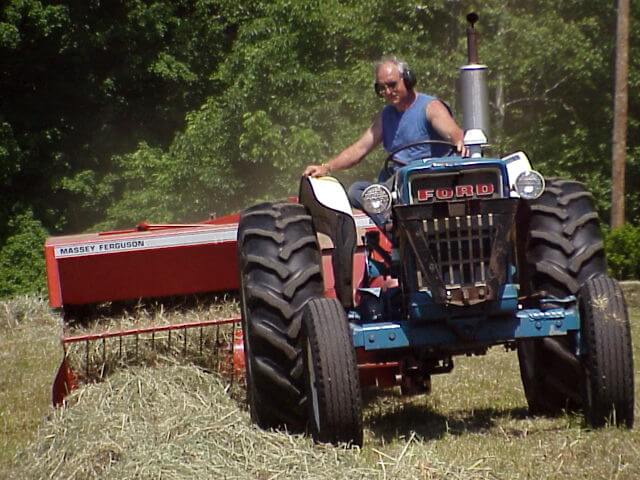 Peter Diemand: Peter is the general manager of the farm. Some of his responsibilities include haying the fields, maintaining the wood lot, turning the compost, upkeep of the farm's tractors, buildings and other farm equipment. Peter also delivers eggs and pot pies to the Hampshire County area. When he is not using his wood lathe, he is waiting for a nice day to take his Harley for a ride.
Anne Diemand Bucci: Anne is in charge of the Farm Store, the kitchen and the catering. She and the kitchen staff make the turkey pot pies, soups, sandwiches and all the other amazing food sold at the store. Anne is responsible for managing the health of the turkey and chicken flocks as well as working with inspectors and farm inspections. Anne is also a Police Officer and Constable for the Town of Wendell. Anne participates in the Reinventing Justice Programs of Franklin County. Ask her about it!
Faith Diemand: Faith runs the farm's office. Her focus is maintaining the accounts and the paperwork. She also delivers farm products to the Franklin County area. Faith is responsible for the care of the cows and menagerie of little farm animals. Her miniature donkeys, goats, sheep and bunnies will meet you at the driveway when you visit! Also ask about her new additions of three miniature horses. In her off time, Faith is busy playing with her three granddaughters, walking her Jack Russell and quilting.
OTHER FAMILY YOU MAY SEE WORKING ON THE FARM
Mary Diemand: Mary is the oldest Diemand girl but you wouldn't know it. She is always running around doing shopping and errands for the farm. She is also our fastest "hard-boiled-egg-peeler" and "pot pie wrapper". She helps in the dressing room and is one of the Diemand Grandma's that help ensure the quality of your chickens and turkeys.
Judy Diemand Bailey: Judy is the sister that you will see running our booths at various local festivals. She keeps the turkey legs, BBQ pulled turkey, and more coming at Mutton and Mead, Garlic and Arts Festival, and other festivals. On top of that, she works in the farm store kitchen, calls our wholesale customers for orders, and makes deliveries.
Elsie (Diemand) Blanchard: You may have known Elsie from when she ran her gift shop "Raven's Nest" in Hadley. Now that she has retired from retail, she works in the farm store helping make the pot pies and she is one of the Diemand Grandma's that see to the quality of your chickens and turkeys when they are dressed.
Bertha Petruski: Bertha comes home to the farm about once a month when she returns from the Boston area where she helps care for her grandchildren. She doesn't relax and just visit; you will find her working hard in the farm store. She is also a wonderful artist and often does calligraphy signs for the farm.
James Diemand: One of Peter's sons, Jimmy has great carpentry skills. Since his uncle Eddie Diemand passed away the winter of 2016, Jimmy has tried to take on the heavy mantle of the farm's resident carpenter. Check out the new roof and porch on the farm house that he added for us. The porch is a great spot to sit and eat one of our sandwiches or salads.
Tessa White-Diemand: Anne's daughter has returned to the family farm after living in the Boston area. Tessa is working to learn the business and help us grow.
Terry: Terry is our smokehouse/smoker guru and general all around Mcgyver who can fix anything.
STAFF
Doreen: Doreen is our main cook. Her skills are evident in the way that her Shepard's Pie, Beef Stew, and Cheeseburger Pie continue to disappear from our store freezers.
Lauren: Lauren loves to make you desserts and to help Doreen create some of your favorite meals, salads and more. She is also mom to young Skylar and Cora, so you know she is busy!
Paul A.: Paul is a former culinary arts teacher who comes in once a week to make some special dishes for you. Try his Moroccan Pie or Sweet Potato Coconut Soup, or gluten-free Almond Crescent Cookies.
Tammy: Tammy works in the kitchen doing a little bit of everything and anytime something needs to be done on the computer, it's her that we call. If you call to set up a catering job, you will most likely talk to her to set up your menu.

Barbara: Barbara helps get our wholesale orders together and out the door. When she is not doing that, she is making your Lemon Blueberry or Maple Walnut Pound Cake.
Deb:  Deb comes to us with a wealth of baking experience and a cheerful willingness to put her hand to any work that needs to be done.
Adam: Adam has joined us to help around the farm. He tapped our trees this year to make his own maple syrup which we have been using in our mashed butternut squash.